This February, we are sharing stories on how we share love and put heart into doing good deeds across the country.
Michael is visited by Katie from York every week. They speak about old comedy, their families and friends and Katie tells Micheal about her life and things she's done and seen. Michael told the GoodGym central team how much the visits meant to him and we got in touch to find out more.
Michael heard about GoodGym through his Community Nurse. He was new to the area and had limited social networks in York and was looking for some company and for someone to talk to.
"Katie volunteered and she has been a great inspiration. I'm inspired by her dedication to coming down and seeing me regardless of the weather. I really appreciate it. We talk about all sorts of things, I like telling her about York, I have lots of stories and a lot of interests."
Michael highlights how Katie sees him for himself. "I have Parkinsons, it means I constantly move, it upsets some people I don't understand as it upset me more, but it doesn't bother Katie."
"I have Parkinsons, it means I constantly move, it upsets some people I don't understand as it upset me more, but it doesn't bother Katie."
Despite sharing frustrations about the impact of his physical health and and not being able to get out on his bike, which was one of his passions, Michael appreciates being Katie's "coach" and keeping her fit.
Katie heard about GoodGym through a work connection and decided she wanted to get involved herself. She has always thought it was important to look after older people in her community, especially those who might be isolated.
She started out thinking that the benefits would be about Michael and the support she could offer another person, and had not realised the positive impact it would have on her too.
Katie said; "I really get so much out of it, my wellbeing, my happiness levels on the day, my motivation after I leave….getting to meet someone like Michael who has done so much with his life inspires me every week. It's been really organic, you'd be surprised how many things you have in common."
They have found numerous shared interests. Michael likes Fred Astaire films and Katie likes dance, they also share a love of music and have spent time listening to music from across the generations.
"You'd be surprised how many similarities and connections you have, connections through music, humour and old comedy."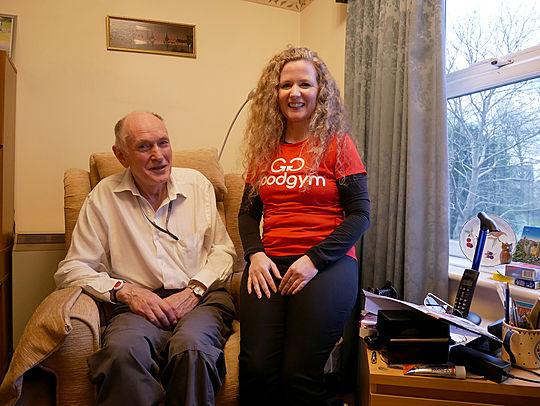 Summing up what GoodGym means to him Michael said;
"I'm just very grateful for it,I can't really say any more than that. For many years it prayed on my mind that our elders, the older generation in this country were often over looked, forgotten. I felt like I was one of the lucky ones, a child growing up in the 1970's and 80's - I had been raised in a community in Yorkshire where the area had a flourishing and vibrant older population and I directly benefited from this. They shared their knowledge and story telling and I would run errands and through this developed a great respect for the older generations."
Katie says that GoodGym was the perfect answer to my wish to help and connect with others who are lonely or isolated and a bonus to get fit along the way. From moving area many times to study or work building connections with neighbours, feeling part of a community would often be short lived and she too understood how it might feel to be suddenly alone in a place with little or no one to call on.
"Meeting Michael has enhanced my week, he inspires me to stretch myself, to push through a recent operation and the feelings of anxiety that often go hand in hand. "
"If you're even for a split second thinking about it - just do it - as Michael said, "just try it, if you have a willingness and approach it with an open mind and heart - there will always someone out there we can match with".
---
Start running to visit an older person