"I get a real buzz from running nowadays"
Belinda tells us how she improved her speed and stamina
Belinda shares her story about getting active, picking up speed and making a difference. From parkrun to GoodGym, Belinda has found her running stride and two communities she wouldn't want to be without.
Getting into my stride
Growing up, I was very anaemic and unhealthy and didn't do much energetic exercise, however in my early 30s I was diagnosed as a Coeliac which completely changed my life! After 6 months of a gluten free diet, suddenley I discovered energy levels not previously experienced! When my sister introduced me to parkrun, it took me months until I could enjoy running. A fellow runner took me under their wing and helped me realise that it's better to do a slow steady run, than to run until you can't breathe, walk and repeat! With this epiphany, running became more enjoyable. I was making friends with other regulars and once I could run the full 5k in one go, I was gradually getting PBs and improving.
Serial volunteer
I first heard about GoodGym at Worthing parkrun over 6 months before it started. As a committed parkrunner (with a reputation for being a bit of a serial volunteer) the combination of running and volunteering sounded right up my street.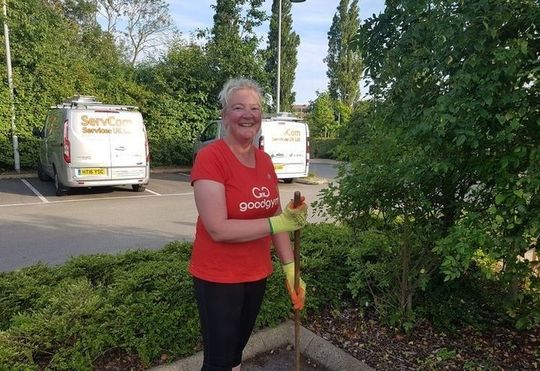 GoodGym Fitness
By the time I started GoodGym, I was running 5k at parkrun each week and occasionally fitting in an additional run during the week. One thing that appealed was that you didn't have to be a fast or long distance runner to join, like parkrun it is suitable for all running levels and abilities. I have seen huge improvements in my running and overall fitness as a result of GoodGym. My speed and stamina have also increased, I can now run 10k in one go and have been regularly running 20k across a week.Unfortunately, I have also picked up an injury! In order to remain involved with GoodGym, I now cycle with the runners (keeping up with the fast runners as well as supporting the group by back marking) and am still able to take part in the community task. Julia, our trainer, has adapted the fitness session to include low impact exercises too!
What the future holds
I am determined to get over my current injury and have signed up to a half marathon next year to challenge myself! GoodGym will help by providing regular opportunities to exercise and to be kept motivated both by Julia our trainer and other regulars at GoodGym Worthing, as we are all really encouraging of each other.
Welcome to GoodGym Worthing
My favourite thing about GoodGym has to be the friendships I have made. There's something about working really intensively together that is great for team building, particularly as we all have a good laugh at the same time. One of the most memorable tasks was a litter picking expedition near Worthing station; there were only 5 of us that week but in 30 minutes, we had filled 18 bin bags with rubbish!
We all have a good laugh
I have visited GoodGym Brighton and Colchester too and found them equally welcoming & friendly. Every now and then we do a little bit of parkrun tourism together. It was amazing when we went to Bevendean parkrun up on the South Downs. The others finished ahead of me but Beth came back to meet me for the 1k with me, then we were joined by Gill for the last half kilometre and Ed was a few metres from the finish to cheer me on too! It was definitely the fastest 1k I have ever run!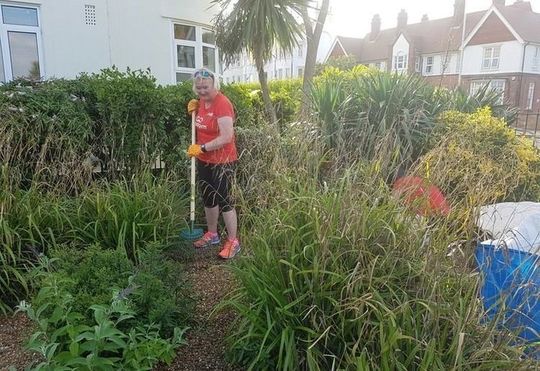 For me I get a real buzz from running nowadays and when you throw yourself into a task that benefits your local area it's like a double buzz!
What would you say to anyone thinking of getting involved in GoodGym?
Definitely do it! There are taster sessions to try out GoodGym without making any commitment. It's a great way to improve your fitness, get to know lovely people, do something good for your local community and have fun. Lots of my family and friends follow my exploits with GoodGym with interest and some have signed up in anticipation of a GoodGym starting in their area.
---
Take a look at upcoming GoodGym group runs near you
Find out how you can get involved if you're new to running