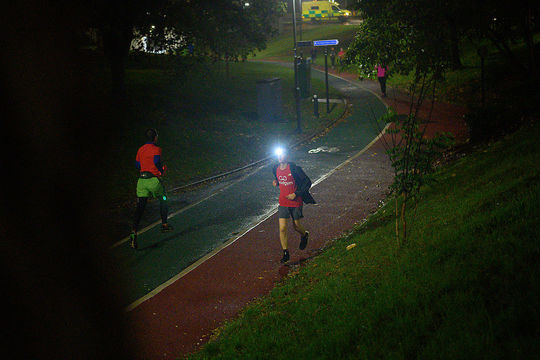 Staying safe and running
Thoughts, feedback and experiences of GoodGym runners regarding being safe when outside
Following the murder of Sarah Everard and the public outcry regarding men's harassment and violence against women and girls, the central team received valuable feedback, thoughts and experiences from GoodGym community. This story provides an overview of key themes that are useful reminders for all of us to keep in mind when it comes to safety and inclusion at our sessions.
One thing that came across really loud from the feedback is the constant conscious and/or subconscious effort required by women to calculate how risky it might potentially be to walk/run/cycle somewhere at a certain time. For many women it has become the status quo without even thinking about it. Past experiences and safety habits have come into sharp focus for many women since the murder of Sarah Everard.
Despite the stories of harassment and feelings of vulnerability, women have made it equally clear that this is a problem with male violence and that the focus needs to be on that in wider society - changing men's behaviour not women's. We also heard that this will not stop many women living their lives the way they want to and exercising in public places, women do not want to be treated or viewed as victims. They are fully aware that whilst the fear is there, the risk of serious attack by a stranger is still very rare (sadly most gendered violence is committed by someone a woman knows).
From a practical perspective, we want to share below themes with you that were highlighted in the feedback/suggestions received:
Location and timing of group runs:
Having a base to come back to is really important and ideally this needs to be in a well populated area and not out of the way as it can be somewhat intimidating travelling to and especially from in the darker months with many group runs finishing up closer to 9pm.
Back Markers:
We were once again reminded how important it is to not leave anyone behind but also ensure that those that might be in between the 'fast' group and those at the back, can be left vulnerable if left on their own if the gap is rather big between the front and the back of the group. It is everyone's responsibility, not just back markers', to ensure that runners are not left on their own so we ask everyone to look out for each other on every single group run - formal or social - and join anyone who's been left running on their own.
Code of Conduct:
We are a social and friendly bunch and it's always important to remember to treat everyone with respect and not cross any boundaries - this requires everyone to be mindful of how their comments and behaviour might come across during a GoodGym session or even outside them, including on social media. It really is not that difficult! Thankfully reports of harrassment are extremely rare at GoodGym sessions . We will review and update our Code of Conduct with wording that reflects the wider issue of men's harassment of women in our society to reinforce our stance against it. We also want to empower everyone to discuss anything that might have made them uncomfortable, no matter how trivial you might feel it might be, with their area activator or with the central team.
No-shows and pressure not to cancel community missions:
We know that many of us are conscientious and want to help task owners and not cancel any tasks. We've heard of examples when people drop out at the last minute or don't show up and how that might leave only one or two runners feeling unsafe at a certain location/time of day to do a community mission. We want to reinforce to all TaskForce and Area Activators that we do not want you to feel any pressure to not cancel the session, if you don't feel comfortable doing it - we support your decisions and trust you to evaluate how safe getting to/from the session on your own is and empower you to cancel with our full support. We also ask everyone to be respectful and only sign up for sessions if you can attend them. We appreciate that life throws last minute obstacles in our way, however by being late, cancelling at the last minute or not showing up without heads up you can unintentionally leave session leaders on their own. Please be considerate!
Covid-19 impact on GoodGym and feelings of safety:
Indoor missions with one runner: As the pandemic continued and we were getting requests for simpler household tasks, such as changing light bulbs, we allowed runners to attend these alone in order to reduce the risk of spreading coronavirus. We ask referrers to highlight and safety concerns they may have about the beneficiary to ensure that a runner is not sent to anywhere with any concerns, however, we do recognise how this 1-person policy might've meant that some women might not feel safe doing it and therefore unintentionally might've been excluded from feeling like they can do these missions. We'll be reviewing these rules as restrictions are lifted and vaccinations become more widespread.

Cancelling of Group Runs: We have heard that the impact of the cancellation of group runs due to covid has affected some women more than men as running in a group in the evening, especially when it's dark, provided them with a feeling of safety. A number of female runners had to stop their evening runs not feeling confident and comfortable running alone around their area. We have seen paired runs happening to work around this concern and now that restrictions are lifting we hope to see more social runs of limited numbers.
Experiences of marginalised groups:
Many comments mentioned the injustice of the lack of publicity that cases similar to Sarah Everard's have received in the media for black women and women of colour. This is a wider issue in our society for which deliberate and consistent anti-racist actions are required. We recognise and acknowledge this. We also have taken practical anti-racist and anti-descrimition steps in our processes, policies and plans. We will be updating you on this on our new and currently in development Inclusion and Diversity page.
A huge thank you to everyone who took the time to share their experiences and thoughts. We hope this summary provided a helpful insight into some of our thoughts and also acts as a reminder of good practices. Please let us know if you have any questions or further thoughts on this subject. email : haveyoursay@goodgym.org