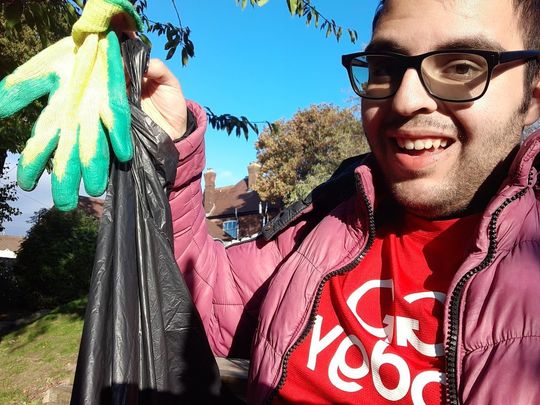 Happy and helpful
All about Manuels GoodGym experience
December 21, 2020
Featuring
Since joining GoodGym in 2019, Manuel has done 56 good deeds on community missions and group runs in the city and surrounding areas of Portsmouth. Here he tell us about how GoodGym changed his university experience.
I first joined GoodGym last year on October 2nd. That day, the University of Portsmouth was hosting its volunteering fair, and out of all the opportunities there, GoodGym was the one that most appealed to me. That very evening, me, having rarely ever done any exercise in months, and being very out of shape, I joined on a task to Hilsea Lido, the furthest location possible at the time.
I had a great time that evening and now it has been over a whole full year that I've been together with GoodGym. Nowadays I cannot imagine what I would do in my free time without GoodGym at all. However, at the time, it was very difficult for me - summer was gone and the evenings were becoming darker and colder day by day, week by week. To say I struggled would be an understatement, but, thanks to GoodGym I persevered and did my best to attend whenever I could throughout the autumn and winter months.
Every time I joined a GoodGym mission I felt fantastic; GoodGym helped me at a critical time when I was new to the city, without friends, and without much of anything but studying to do in my spare time. GoodGym gave me the motivation to leave the house and do something worthwhile. Each and every session since has been fun and varied, and in every task, I've experienced the friendly, kind, and incredibly welcoming atmosphere that is the basis for GoodGym's success.
This crucial factor made me feel happy and helpful, as well as energised from the exercise. GoodGym became my social activity to get me out of the house during the winter months. My mental and physical wellbeing benefited immensely from my joining of GG and that is why I advocate for everyone to at least try a session, as it really does reward you in so many ways. I've loved it so much I have even gotten my friends involved and volunteered in other GoodGym areas such as Brighton, Lambeth and Wandsworth!
It is for this exact reason that the lack of GoodGym due to the pandemic only made me even more eager to return and continue when it was possible, and on the 11th of September, 2020, 6 months later, that is exactly what I did. 20+ tasks later, sunny September had been used entirely for good deeds. I always strive to create the largest positive impact I can in the community, and now with summer gone and university, autumn and winter to look forward to, slowly but surely I will and am continuing to achieve this goal.
Litter picking, charity shop help, leafleting, gardening and so much more. There is always something different and fun to do at GoodGym.Finally, I'd like to highlight the best part of it all! The flexibility due to the nature of GoodGym there really isn't much of a set schedule, so there is always something for someone, be it evenings, weekends, or early mornings! There is never an obligation to volunteer and sessions can easily revolve around a students schedule like mine or full-time employees like my colleagues. We all lead busy lives, but thanks to flexible task times, each and every one of us can participate, whenever we want and whenever we can.
---
Get involved