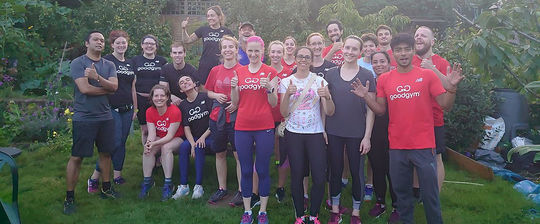 Work with us as our Group Sessions Operations Manager
Help support and grow the GoodGym community
Job Title: Group Sessions Operations Manager
Team: Group Run Operations
Hours: 5 days (37.5 hours) per week with flexible arrangements considered
Location: Flexible/remote working with some travel to London, or London based (see below)
Report to: Head of Operations
Salary: £29,000 - £32,000
Application Closing Date: Thursday 22nd July, 10am.
Interview Date: Tuesday 27th July.
About GoodGym
GoodGym is an award-winning community of runners that encourages people to get fit and do good at the same time. Our work is shown to reduce isolation, improve community cohesion and to improve wellbeing for all involved. It is frequently cited as a leading social innovation by the government, mainstream press and leading think tanks.
Job Purpose
To manage and support our nationwide team of area activators who support the local growth GoodGym group sessions across England and Wales. You will be responsible for their performance and support them to grow participation in their areas, involve under-represented communities and develop better working practices.
You will also manage GoodGym's extensive volunteer session leader programme, develop our recruitment and training and work with members of the community to improve and expand this programme
Goal of the role
The goal of this role is to increase the number of GoodGym sessions and increase the number of volunteer session leaders
Performance will be assessed on:
Numbers of GoodGym group sessions being listed
Number of active TaskForce
Number of active run leaders
Primary Responsibilities
Staff Management
Responsibility for management and supervision of area activators
Recruitment and training of area activators in 58 local authority areas
Managing and developing GoodGym's training and supervision for area activators
Monthly payroll processing
Volunteer Management
Managing GoodGym's volunteer session leader training programme
Identifying and training volunteer session leaders
Developing GoodGym's support for volunteer session leaders
Working with the GoodGym community to improve processes
Increase Participation
Working with area activators to increase the number of group sessions listed
Working with area activators to increase participation on group sessions
Working with area activators to list tasks from priority partners
Project Management
Maintaining policies and procedures for group session activities
Monitoring, managing and reporting on risk for GoodGym group sessions
Report on indicators against which contribution towards our business plan objectives on growth
Person Specification (E) = essential, (D) = desirable
Knowledge
An understanding of, or interest in GoodGym and its mission (E)
Awareness of barriers to sports participation (D)
Skills and Abilities
Excellent verbal communication skills, particularly over the phone (E)
Excellent written communication skills (E)
Ability to build strong relationships with people from a variety of backgrounds (E)
Reliable and detailed record and time management skills, and attention to detail (E)
IT literate and able to pick up new systems quickly (E)
Ability to shape, plan and manage projects with good planning and organising skills (E)
Techniques for supporting large teams of part time employees (D)
Experience
Experience developing and managing performance of others (staff/volunteers) (E)
Experience of delivering training and/or presenting to audiences (E)
Experience of contract management and reporting (E)
Experience of community development and engagement (D)
Experience of working in tech focused environment (D)
Experience of supporting or leading on service growth (D)
Location and remote working
GoodGym supports remote working alongside providing an office space in London for staff to use if they wish. All staff have the choice of working remotely, using the office space or a hybrid of both.
GoodGym recognises the importance of staff meeting in person for both work and social purposes. We like to meet in person at regular intervals throughout the year. You may be requested by your manager to attend a team meeting at the office in London, or elsewhere around the UK, that is not your usual place of work. In this case GoodGym will pay reasonable transport costs.
How to apply
Please apply by filling in this application form If you have questions about the role prior to applying please email Ed Field on ed@goodgym.org.
The deadline for applications is 10am on Thursday 22nd July Interviews will be taking place on Tuesday 27th July. Please keep this day free when applying.
We are looking for the best people to help us provide support to thousands of commnuity groups and charities across England and Wales. We want our team to reflect the diversity of the communities we serve, offering equal opportunities to everyone, regardless of race, sex, gender identity, disability, age, nationality, religious or philosophical belief, age, sexual orientation, educational attainment, family status, trade union activity or any other factor. We see diversity as strength and want everyone to be able to be their whole selves at work. GoodGym recognises we don't have the diversity we are aiming for, we actively encourage applicants from people with diverse ethnic backgrounds.
We have a code of conduct in place, and are committed to creating a culture where everyone feels safe and respected.
The information collected during our recruitment process is only used for monitoring purposes to assist us in analysing the profile and make up of individuals who apply, are shortlisted for and appointed to each vacancy. In this way, we can check we are complying with the Equality Act 2010 and with our own Equality Opportunities and Diversity policy.