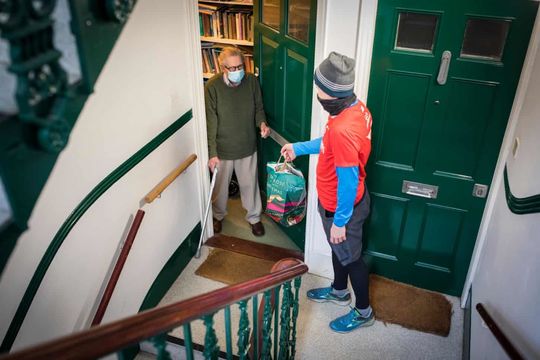 GoodGym Operations volunteer opportunity
Enable GoodGym runners to do more good
We are recruiting home-based volunteers to join our growing team to help coordinate GoodGym task logistics.
Role Title: Operations Volunteer
Team: Older People Operations
Contract Type: Volunteer Agreement
Hours: Flexible within our office hours of Monday to Friday 9.30 to 6.00 and a minimum comittment of 2 half-day shifts each week
Location: Remote working
Report to: Operations Coordinator
Salary: Voluntary position, reasonable expenses paid
Application Closing Date: Flexible/ongoing
Interview Date: Flexible/ongoing
About GoodGym:
Since the pandemic changed life in the UK, GoodGym runners have covered more than one million kilometers to carry out 43,000 good deeds to support our communities. We get fit by doing good - doing tasks like delivering medicines and foodbank parcels, changing light bulbs and clearing garden paths for isolated and older people. We even move furniture to make room for special equipment so that patients can be discharged from hospital.
Behind this help on the ground, is a dynamic team working with our own online referral and volunteer management systems that enable us to receive requests for help and coordinate a response. We partner with organisations including Age UK, NHS, Local Authorities, and British Red Cross in a unique way to deliver prompt, confirmed support to the people who need it.
About the role:
Would you like to be part of our team, volunteering in a fast-moving environment and making a real difference to people's lives? Your role would start with editing referrals so they are suitable to publish to our runners and this can involve collaborating with the referrer to get all the information we need. And then, once we have volunteers signed up, you'd be phoning the person we are helping, checking all the details and confirming arrangements. The aim of this process is to help our runners complete the task without a hitch, ensuring that the task we do meets the brief of the referrer and most importantly, that we safely and sensitively support the person who needs help. Our referrers tell us our confirmation system sets us apart, our amazing runners go above and beyond, and one of our volunteers says "I always know what's expected of me and although it gets busy, it's not stressful because of the support of the rest of the team". And another says "I enjoy confirming, especially when the person we're supporting sounds so pleased and grateful for our help".
You would be part of a supportive team who are always there to answer questions and provide good-humoured help via our Slack channels. We have developed comprehensive training to get you started and there is a Volunteer Toolkit for reference. We'll hold your hand to help you become one of our team. The roles are flexible within our office hours of Monday to Friday 9.30 to 6.00 and we would ask that you commit to 2 half-day shifts each week. We will contact you on a Friday inviting you to opt into shifts that suit you for the following week.
*Person Specification *
Good verbal communication skills, particularly over the phone
Good written communication skills
Ability to provide information, advice and assistance appropriately to a wide range of individuals
Strong information management skills and attention to detail
IT literate, able to pick up new systems quickly and able to use your own laptop
Previous experience of GoodGym is not essential.
If you're interested in this role, please fill in this short form and we'll be in touch.
We are looking for the best people to help us provide support to millions of people affected by loneliness in the UK. We want our team to reflect the diversity of the communities we serve, offering equal opportunities to everyone, regardless of race, sex, gender identity, disability, age, nationality, religious or philosophical belief, age, sexual orientation, educational attainment, family status, trade union activity or any other factor. We see diversity as strength and want everyone to be able to be their whole selves at work.
We have a code of conduct in place, and are committed to creating a culture where everyone feels safe and respected.
Photo credit Alicia Canter, The Guardian "It's given me faith back in humanity": the lockdown volunteers - a photo essay