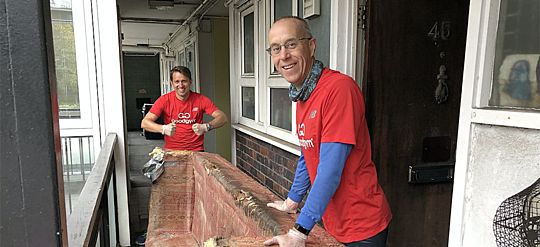 Supporting older people home from hospital
Working with the NHS to make a difference
Since 2017, GoodGym has been running missions to help them get older people home safely from hospital. Here Alix Guerber, part of the team behind the process, talks about the importance of these missions and what they mean to GoodGym runners and those they support.
Over the past year, GoodGym has been getting more and more involved in the multi-faceted and multi-agency process of getting people home from hospital to a safe and appropriate environment. We've learned a lot in this time, and we are committed to continuing this learning to deliver our piece of this puzzle.
What we call emergency missions generally involve moving pieces of furniture within a home or outside for disposal, in order to make way for more appropriate living arrangements to be made following a hospital stay. GoodGym's involvement in them came about organically, and it quickly became clear it was a really good fit. We have learnt the ways in which they are different from the other things we do, and observed how our runners have taken to them – they offer volunteering opportunities that are low in commitment but high in impact, and in this way have captured the imagination of the GoodGym community. While NHS or British Red Cross (BRC) staff generally cannot get involved in moving and lifting heavy furniture (however much they might like to help), this very activity goes to the heart of our ethos – using physical movement and activity for social purpose.
This activity goes to the heart of our ethos – using physical movement and activity for social purpose.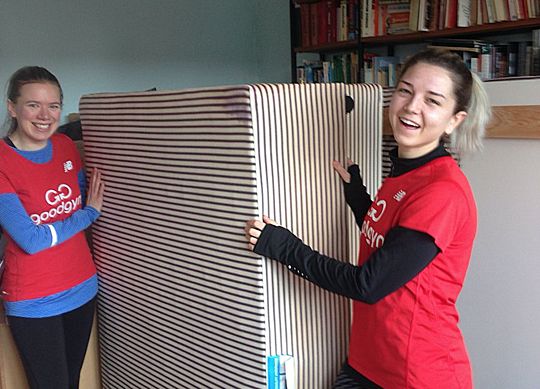 GoodGym is still learning how to combine efficient collaboration with Occupational Therapists and other NHS teams as well as organisations such as the BRC, and keeping the individual coming home at the centre of the process. We don't always get things right, but our aim is to work with people rather than making decisions on their behalf. So much of our work is done directly in contact with the people over the age of 60 who ask for our help – whether in the realm of our coach runs or our other missions. They involve conversations with the GoodGym team around what the person wants, and of course with the runners who are welcomed in the person's home. It is crucial for a dialogue to be in place, and this often goes beyond the practical when our runners are invited to stay longer for a cup of tea and a chat. With emergency missions the picture changes as the person at the heart of it is obviously away from home. This means we don't get to know the person we are helping, and this has led Liz, one of our prolific mission runners, to value the relationships she encounters;
"There was the son who was doing everything he could to make the home he shared with his mum ready for her release. He'd been able to move some bits of furniture but couldn't manage everything by himself, especially when part of his time was spent trying to track down a spare set of false teeth after his mum's went missing! He chatted to us about the home-cooked food she was looking forward to having when she got home and how he'd stocked up on all her favourites. There was the husband who went to the hospital multiple times a day to help perform dialysis on his wife. To enable him to treat her at home, we moved their original marital bed (from the 70's!) up some stairs to make space for a hospital bed. He really wanted her home soon. Then there was the neighbour who, despite being visibly pregnant and in the middle of a house move, not only let us into her old neighbour's flat so that we could move a hospital bed to a lighter, bigger room, but also insisted on trying to help us move some other items of furniture (despite our protests). She also pointed out his favourite chair so that we didn't accidentally move the wrong one: He likes to read his newspaper there."
These relationships coupled with all organisations involved create a community whose aim is to help a neighbour in need through whatever tools are available. As our population is ageing and as our communities evolve, more people find the need for the kind of help we hope to be able to provide. To meet this need we will keep learning, and work towards giving more control to our partners and our runners so that more can be done, and more people can come home.
---
Start running to visit an older person