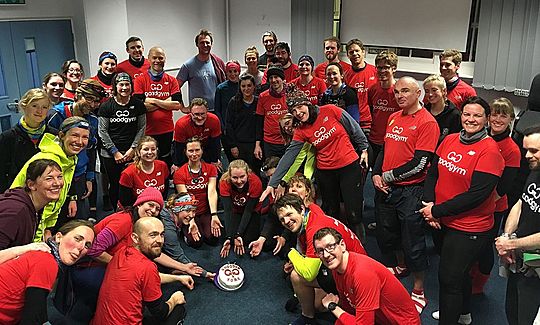 GoodGym January Challenge - What's it all about?
Motivate yourself to do as much good as possible this January
A new year, and in fact a new decade, is here so that means it's time for the GoodGym January challenge, but what's it all about? Here's the lowdown on how to get involved.
Every January, we challenge ourselves to run as far as we can and to complete as many good deeds as possible. In January 2019 we managed a huge 6316 good deeds in total and ran 92,439kms (the equivalent of twice around the earth),and this year we've got even bigger targets in mind!
This year we're mixing it up and there will be three leagues which will tally three measures for each GoodGym area. These are: Number of good deeds - If a runner from one area does a good deed in another, the good deed point will go to their home area. Distance ran - Runners must have Strava connected to their account to measure this. Number of participants - This is individual people who attend a session in your area.
As well as the overall winning area that does the most good deeds, this year there will also be an additional award judged by a celebrity for the most extraordinary task completed in January. We'll be asking each area will submit their good deed of choice into the competition.
The overall winners in 2018 were GoodGym Bristol who completed 379 deeds and last year GoodGym York came out on top with an incredible 696. Who will take home the golden trowel this year?
So who's it for?
Everyone. The January challenge is for absolutely everyone, whether you do one good deed in January or one every day, every single deed counts and you'll be part of making a huge difference to your area. Whether you've been coming to GoodGym for years or it's your first session, come and get stuck in with us this January.
How do I add my distance?
Everyone who runs with GoodGym in January will have their distance from all their activities added to their area total. To make sure your distance is added you'll need to track your runs and walks using Strava and link it to your GoodGym profile. It's really easy, free and a great way to keep motivated and see what other GoodGym members are up to. There's absolutely no pressure to complete a certain distance and you'll be working as a big, brilliant team to motivate each other and get out there this January.
And that's pretty much it, now let's get out there make the start of this decade a good one!
---
Get involved:
- Find a session near you