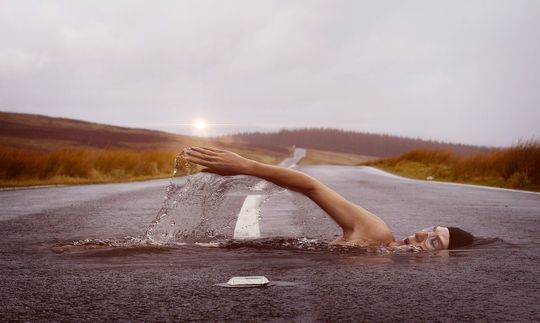 GoodGym announces plan to include swimming
Swimmers to join all GoodGym tasks
We know that swimming is a hugely popular sport with over 14 million participants in the UK. Today we are announcing that we want to make it possible for swimmers to join all GoodGym sessions.
From this year we'll be committing to make sure that anyone who wants to swim to a task is able to.
All our tasks will now be close to waterways such as rivers and canals and all our coaches will be relocated accordingly.
This announcement opens up a whole host of new tasks and will help us build on our existing work with the Canal and River Trust. We're excited about the prospect of helping out with more water-based tasks such as the dredging of ponds and rivers, and reclamation of shopping trolleys and bicycles from waterways.
Safety
We share concerns that wet GoodGym swimmers might cause dampness at tasks and will mitigate accordingly. Tasks will be provided with drip trays and towels and those arriving by water will be required to fully dry themselves before starting the task.
The use of canoes and paddle boards will also be permitted but a line will be crossed at motorised water vehicles such as jet skis. We are aware of the use of yachts by GoodGym areas on the South Coast and will be producing guidance for use of wind-powered vessels in due course.
Due to the nature of our waterways we take a zero-tolerance approach to diving, those found diving or bombing at our group sessions will be asked to review our code of conduct before returning.
We will introduce clear guidance on the use of snorkels; GoodGym is a social activity and we believe snorkeling is a barrier to socialising on the way to the tasks. Doggy paddle and breaststroke are favoured strokes for all group sessions due to the ability to speak to those around you whilst swimming. Butterfly is discouraged due to its splashy, disruptive nature.
We strongly discourage the use of armbands and flotations devices. We advise that only strong confident swimmers sign up for swimming tasks for safety reasons. You must be able to swim at least 1km unaided in order to take part. We are however looking into the use of lilos and inflatable chairs and animals for use during socials.
We are now actively looking for wetsuit sponsors for the winter months, if you have any contacts that may be of use then please get in touch.