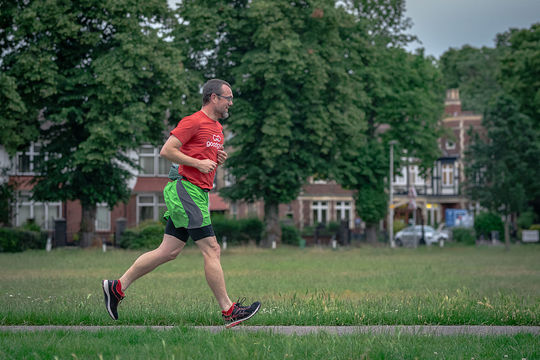 GoodGym Adventure Film Watch Party
Inspirational running documentaries compiled by GoodGym Islington's trainer
During the first lockdown in London, Simon Fitzmaurice (Area Activator for Islington) started to use his enforced indoors time to binge watch lots of motivational running films.
It was a rare opportunity to experience these inspirational online videos from all across the world, during a time when we were not able to physically travel ourselves. Later on in the year (during the second round of restrictions), Simon hosted a series of online streaming evenings called "Adventure Film Watch Party", allowing any Goodgym runner with an internet connection the opportunity to watch these films together. Using a platform called TwoSeven (https://twoseven.xyz/), the participants were able to video call and chat throughout the screenings, and started to offer their own recommendations for films. These events proved to be really popular, and we thoroughly enjoyed our weekly catch up film nights!
All of the films we watched together are free to view on Youtube. So here are a collection of our favourite movies from our showcase!
Transamericana with Rickey Gates: Running 3700 miles across America (Film duration: 1hr 15min) https://youtu.be/5ciEqPZsOCs
In 2017, ultra-runner Rickey Gates embarked on a 3,700 mile journey from South Carolina to California to cross the continental United States. The trip was not intended to break records, but to experience the heart and soul of America. Rickey felt disillusioned following the election of Donald Trump, and came to the conclusion that he barely knew his own country, and set about recording a rich visual story of his travels and his discoveries over the course of 5 months.
"Run Forever: The film of Nicky Spinks & the Double Bob Graham" (Film duration: 48min) https://youtu.be/2ABR30IHlq4
"Run Forever" is the incredible film of Nicky Spinks attempt to break the Double Bob Graham Round, a 132-mile endeavour across the highest peaks of the Lake District, clocking over 54,000 ft of ascent. No easy feat, especially for a record that has been undefeated since 1979. A super inspiring film of camaraderie, breathtaking scenery and astonishing determination. Winner of the Judge's Special Prize at the Kendal Mountain Festival 2017.
"Where Dreams Go To Die: The Story of Gary Robbins and the Barkley Marathons" (Film duration: 1hr 16min) https://youtu.be/NDZdsqbcGTU
The Barkley Marathons is often regarded as the toughest and most bizarre race on Earth. Created by Gary "Lazarus Lake" Cantrell, the event takes place in Frozen Head State Park in Tennessee every year, and tasks a select crew of runners to undertake the 100+ mile unmarked course through nightmare conditions and unforgiving terrain. "Where Dreams Go To Die" is a collaboration between Canadian ultrarunner Gary Robbins and film maker Ethan Newberry (The Ginger Runner) documenting Gary's trials across two years of the Barkleys. A gripping movie about an insane race!
Beau Miles Double Bill:
Beau Miles is a university professor, film maker and keen runner based in Jindivick, Victoria, Australia. His Youtube channel is chock full of amazing clips of his "running experiments"- using running as an instrument to test out different ways to achieve your goals. These projects are often mad, hilarious and inspiring in equal measure. We decided to show two particular films as part of our Watch Party, starting with:
"Run the Line: Retracing 43km of Hidden Railway" (Film duration: 24 min) https://youtu.be/rxCghemtjjM
Beau attempts to trace the original route for an old train line that ran through his tiny town, which has since been forgotten and covered with farm land, golf courses and gum trees. Armed with a shovel, a 1950's train conductor uniform and a backpack full of homemade pasta, he embarked on the challenge of discovering ghosts from trains gone by.
"A Mile an Hour: Running a Different Kind of Marathon" (Film duration: 18 min) https://youtu.be/EvT5XS7j-Dc
Here is Beau's description for this fascinating film: "A different kind of marathon; running one lap an hour, for 24hrs, around my perfectly mile long block. The rest of the time I do as much as possible; making things, odd jobs, fixing stuff. It's about running, doing, and thinking."
"The Great Norse Run" (with Danny Bent and Project Awesome) (Film duration: 37 minutes) https://youtu.be/N0jek-dYZq8
Project Awesome are a super-positive, London based, free fitness community set up by adventurer and author Danny Bent. Last year, the crew embarked on an ambitious project- to enable 18 runners of varied experience and skill levels to run across the length of Iceland in the middle of September. An ambitious undertaking and a logistical nightmare, but also a hugely inspiring adventure!
"Showing Up" (a film about the November Project) (Film duration: 28 minutes) https://youtu.be/AwofbcpEUgw
November Project started in Boston by two friends agreeing to meet up for outdoor fitness sessions on cold, grey morning throughout Winter 2011, thus holding each other accountable for each others well being. The pair soon became a group, and November Project has since become a worldwide community, ignited by like-minded individuals "showing up". This film is a fascinating collection of interviews with various November Project members about their local chapters, and what convinced them to start attending.
"The Grand Round – Featuring John Kelly" (Film duration: 37 minutes) https://youtu.be/uV05PwEYj-E
John Kelly, Tennessee native and one of the elite few Barkley marathons finishers, became a resident in Bristol in 2019, and has since engaged in some our countries toughest running challenges. The Grand Round is an incredible undertaking, combining John's former career as a triathlete with his current status as one of the most prolific ultra runners in history. The goal is to run each of the UK's great rounds (the English Bob Graham, the Welsh Paddy Buckley and the Scottish Charlie Ramsey) in under 24 hours each (no easy feat), while also cycling to each start location. This film documents the journey, alongside John's support crew, pacers and cycling team, while capturing the imposing beauty of the UK's most challenging hills and fells.
A few extra Youtube channels and websites for more films!
The Berghaus Dragon's Back Film collection https://www.dragonsbackrace.com/films
A catalog of footage and recordings from the toughest mountain race in Wales, including BBC broadcasts form the inaugural event in 1992, and an exciting show down in 2017.
Journey Film Collection https://www.youtube.com/user/journeyfilm
JB Benna was a prolific adventure film producer in the early 2000's, and his company Journey Film have hosted their vast collection on films on this Youtube channel. These are the documentaries that used only be accessible via DVD purchases, but are now free to view, and are incredible snippets of ultrarunning history. "Unbreakable: The Western States 100", "Ultramarathon Man, 50 Marathons: 50 States: 50 Days" and "The Runner: David Horton's 2700 Mile Run of the Pacific Rim" are highly recommended watches.
---
Get involved