This month we are celebrating what it means to go further with GoodGym. Matt Garnett, a member of the TaskForce at GoodGym Bristol, writes about how Bristol are celebrating the 200 good deed marker.
As part of the "go further" series by GoodGym, I thought it would be great to tell the story behind the 200 Club at GoodGym Bristol, and pick and explain a few of the T-shirt designs.
The story
It came about after a discussion between myself and Ivo in early 2016, about the landmark t-shirts that GoodGym Central would provide, they were clear they would only provide them at the start and then at key good deed markers; 50, 100 and 500 (if anyone would ever get there…)
As Kim started to get towards 200 runs a group of the Bristol GoodGym regulars (this was before the TaskForce concept had stood up) felt we wanted to celebrate the occasion. Especially as unlike some of the GoodGym London runners, the Bristol runners have completed almost all of their good deeds in Bristol with the same group of friends, so we wanted to go further and celebrate this achievement with a special T-Shirt. As such a GoodGym tradition was born!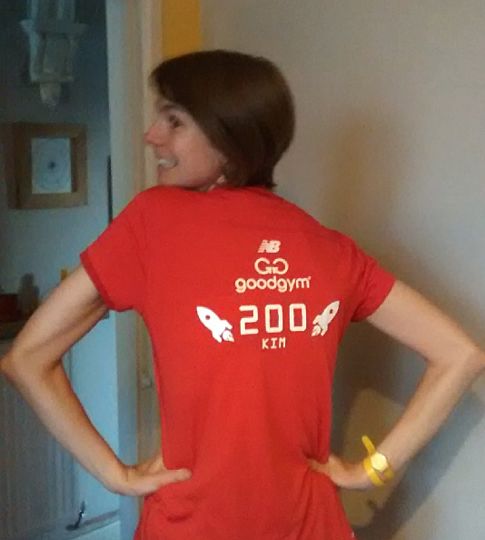 The first design was for Kim, with rockets to build on the wings of 100, then 'gazebo' Jordan was approaching the mark so we decided we needed to customise each design for each individuals personality, So gazebo got flying gazebos!, then godfather Dave got a GoodGym godfather themed design. After that the designs got more lavish and personalised.
There are currently fifteen T-shirts out there, here are a few to look for and the design concepts behind them:
Fi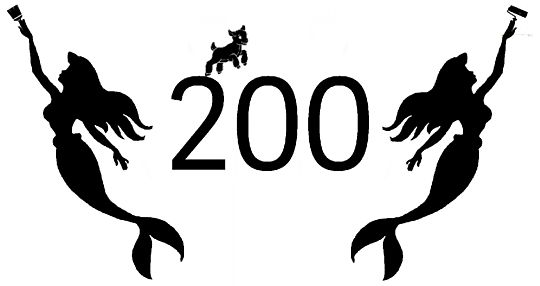 Fi with her red Ariel like hair, and love of painting and goats was an interesting one to design. Most images of mermaids are either demurely sat on rocks or in shell bikinis, neither of which seemed appropriate. So, it went down the heraldic approach, but with added paint brush and roller – to make them GoodGym, plus a baby goat frolicking! Aww.
Mel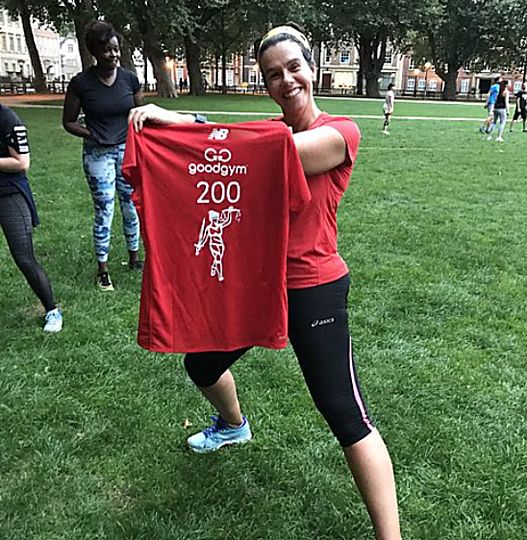 Mel, a magistrate, Visually Impaired guide and parkrun obsessive, her design was based around Lady Justice (with the blindfold a nod to the VI guiding) running, the legs are actually based on a photo of Mel running, and the scales weigh up her love of parkrun and GoodGym to see which she loves most. It was important to give her a massive sword to fight off any mental demons, and remind her team GoodGym are there to support each other.
Chris B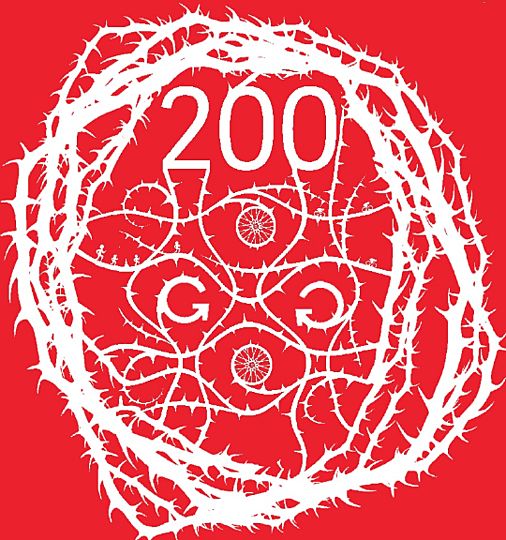 Chris, founder of GoodGym Bristol, keen cyclist and plot holder at Bramble Hill farm. This design was a myriad of brambles wound around all manner of bicycle bits, runners, the 200 digits and the GoodGym logo itself to symbolise how woven into the fabric of GoodGym he is.
Matt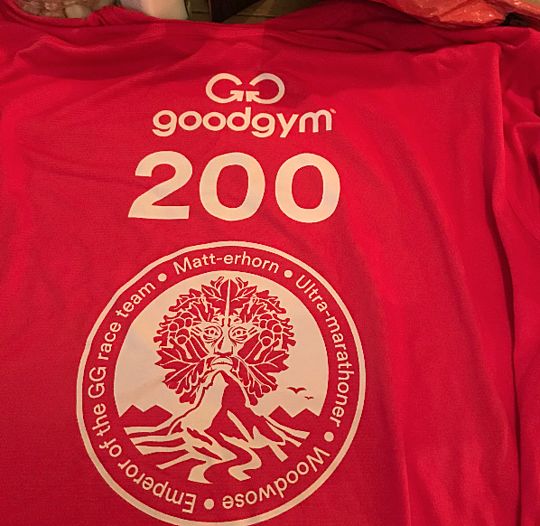 Ultra runner, (former) member of the GoodGym Race Team, trail and fell runner. I didn't design my own t-shirt however it is an amazing combination of the Green Man image and the Matterhorn, in honour of the Ultraks Matterhorn Skyrace and the Green Man ultra in Bristol, two special momentous races that I finished in 2017.
Other designs: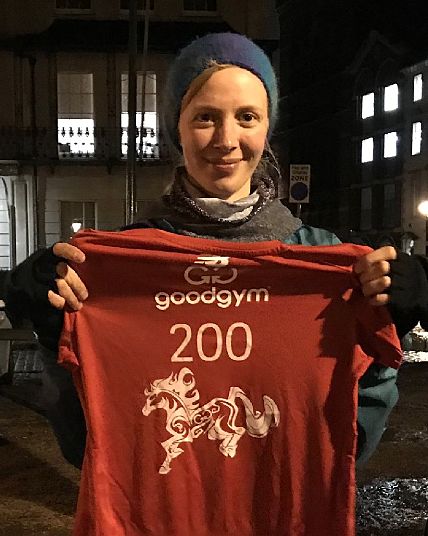 Sarah has a running horse as she loves horses, Puma Wilson has a puma, PB Snr has the pink panther pushing a wheelbarrow, Rich G has a Morph based image, Clo has a dream catcher. Look out for them at your next run you just might spot one or two.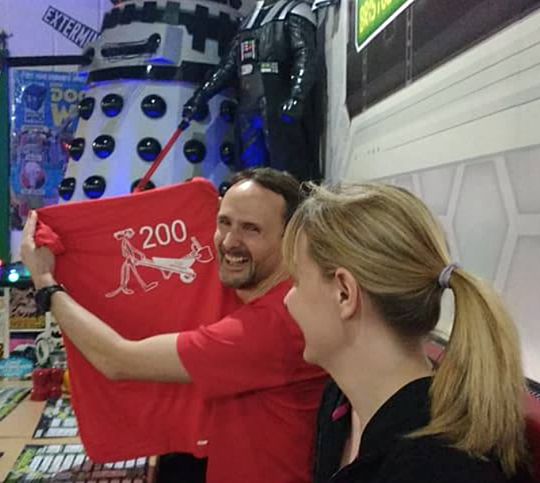 Other lovely things we do
It would be remis of me to not highlight a few of the other lovely things that we do to support one another. We give out birthday cards to runners, GoodGym babygrows for Charlie's and Kim's babies and congratulations cards for completing target races. We produced a badge to celebrate Debs Redmond achieving "world domination" by visiting every GoodGym area up until 2019. At the end of my two-and half-year tenure of the GoodGym Race Team, GoodGym Central did not mark the occasion or send a thank you email, so it was brilliant that GoodGym Bristol went further and produced a personalised drinks bottle that I can carry on my runs.
Lastly, when Dave reached the incredible target of 500 deeds we threw a unique celebration, and GG Central gave him a 500 T-Shirt, as Ivo promised.
The future.
The future of the 200 club is uncertain as more runners do more good deeds, especially with the increased number of good deeds achievable through community missions, Ivo was right it is a lot of work to achieve and going further takes continued effort and funding to achieve excellence. But what is certain is that we will keep supporting and celebrating each other to 'Do Good and Get Fit' as only we know how.
---
Get involved: