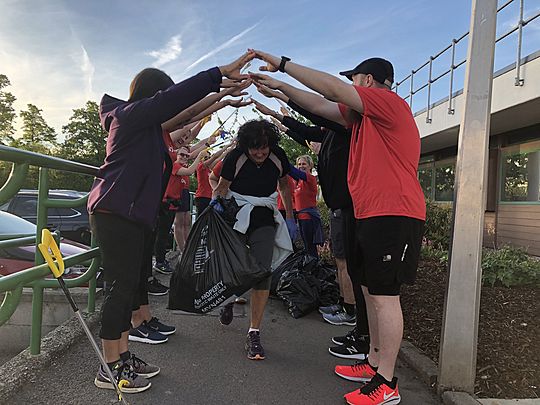 Feeling beyond words
Celebrating Jean's GoodGym achievements at 85
This month we are sharing stories from inspirational women of GoodGym and their achievements. Jean Watts has been a part of the group at GoodGym Slough since November 2018 and has clocked up an impressive 45 good deeds. She is also 85 years old and one of GoodGym's oldest runners.
We spoke with Jean to find out what motivates her to run and what she would say to inspire others.
Jean heard about GoodGym when she ran the Slough half marathon with Active Slough in 2019. After running the race in just under three hours, she found a leaflet about GoodGym Slough alongside her medal in the post-race goody bag.
The best part of doing the half marathon was finding out about GoodGym, I was so excited to hear about it. I thought it sounded really lovely and like something i'd like to do.
Jean has ran hundreds of races, including four marathons (her first in London at age 65, and second at age 73), multiple cross countries and 'countless' 10k's.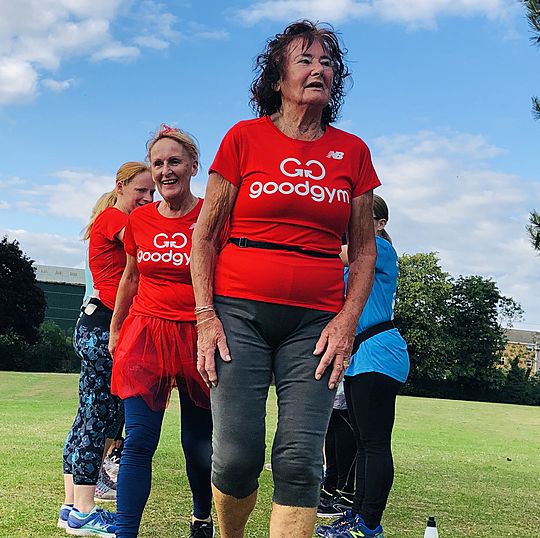 However, although Jean completed the half marathon in brilliant time, Jean says that the time she completes a run in is not important to her.
"Whenever I run a race I tell myself that there is absolutely no way I am going to stop or not finish. If you've got the motivation to do it then that's all that matters. It's all about doing it for yourself and your own sense of achievement.
This sense of motivation is exactly how Jean got into running in Slough, before she joined GoodGym. After turning up to an Active Slough session a couple of years ago and seeing a large group of younger people, Jean turned away and backed out as she was too nervous about joining the team and not fitting in. As she was halfway down the road, Manjit, a trainer at Active Slough and coincidentally also GoodGym Slough's trainer, ran down the road to encourage her to join and become a part of the group. Years down the line, Jean says that whenever she turns up at a session the whole group will cheer her and greet her with hugs when she arrives.
Manjit, who now trains with Jean at GoodGym Slough says: "The running experience that Jean has is second to none. You name a race, Jean will have done it. She will remember the race, the year she did it, the conditions and terrain and whether she enjoyed it or not."
Jean says that joining GoodGym has had an invaluable impact on her life.
"It's such an incredible thing to do. It makes me think about other people and makes me aware of how lucky I am. It's also lovely to have such good friends, they are all incredible people."
She insists that the most inspiring thing about GoodGym is the people you meet along the way.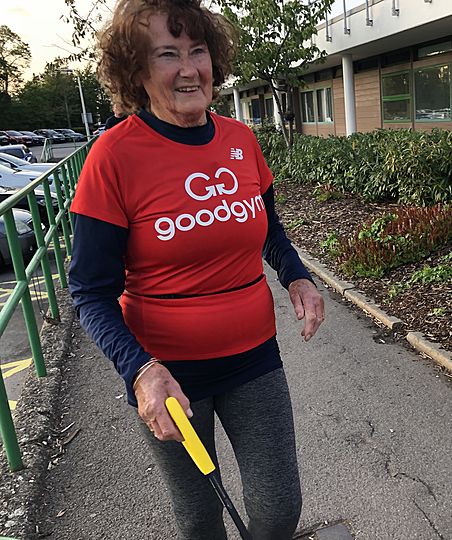 "I'm not an inspiration, they are an inspiration to me. The women I've met through GoodGym really couldn't be any nicer. Seeing them is something I look forward to every week. I get far more out of it then I put into it."
Manjit added: "What Jean brings to our group runs is a sense of community like no other. She is surrounded by a team who adore her. We love listening to her life stories and everyone and I mean everyone is happy to take a turn to run alongside her."
Just as Jean was encouraged to join Active Slough, Jean has some words of encouragement for anyone thinking about getting into fitness or joining a GoodGym session.
"Even if it's a cold wet horrible night, whenever you've finished and get home you will feel a million dollars . It makes no difference if you are a fast or slow runner or walker, it's worth all the money in the world to get that feel good feeling, you could never explain it to anyone."
Manjit summarises ; "If ever a person could enrich your life... it's our Jean."
---
Get involved: