Ahead of World Mental Day and GoodGym's partnership with Thrive LDN, GoodGym Greenwich runner Ben talks about the impact exercise can have on mental health.
At the launch of ThriveLDN in July this year, some startling facts were released in regards to Londoner's mental health and wellbeing. The fact that two million Londoners suffer from poor mental health; only 1 in 4 individuals receive treatment and that in 2015 14 Londoners committed suicide each week cannot be ignored. And nor should it be.
Organisations such as ThriveLDN are working towards addressing these issues. However, there are some activities that individuals can do to take proactive steps towards helping their own wellbeing.
For me, signing up to a GoodGym group run/mission not only confirmed my commitment, but it was also a gesture of self-worth by saying that, "you value looking after your personal health and mental wellbeing".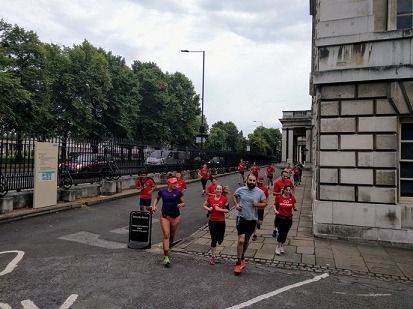 Like our ancestors hunting in packs, thriving doesn't happen in isolation; it is important to have supporters in your life, cheering you on. I've made some good friends through GoodGym and I really appreciate the sense of community that Sarah, our trainer, has fostered in the group. When do you call yourself a runner? Once you've put a pair of running shoes on - acceptance without exception.
Life can sometimes feel out of control, but I would suggest it is never 100% out of control. So, work on what you can control. What I love about running, is the sense of personal agency that comes with it, and if you stick with it you will see progress.
Also, running means getting comfortable with the uncomfortable, and this is a powerful idea when turning it to our own emotional lives. For example, there is always a point in the run when we have to dig-in and just hang on in there. All exercise is stress on the body, but if you push through and if you suffer on, then the endorphins will kick in at the end of the run.
In our emotional lives, we may often flee from uncomfortable emotions or push them down. And when we are thriving in one domain of our life, it can bring our awareness to other areas of our lives that might be out of balance, and this can be distressing.
Sitting with difficult feelings is not necessarily about feeling better; it is about feeling more, and once we acknowledge something in our life is out of balance then we can do something about it. Remember, all emotions have useful information attached.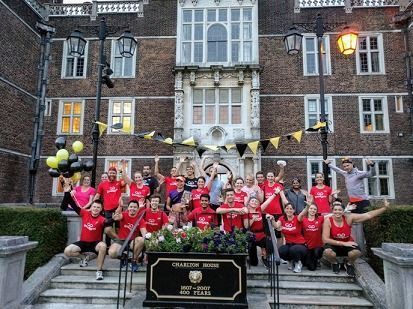 In the healthcare profession, the concept of social prescribing is gaining more traction, and running is increasingly being recognised as one of the best activities to improve wellbeing for people with mental health problems.
Running is often referred to as the most potent and underutilised antidepressant. I can testify it works. So give it a go. Cheer others. Give kudos. But make your own health a priority. Be your own project.
Lastly, in the words of Maya Angelou, "My mission in life is not merely to survive, but to thrive; and to do so with some passion, some compassion, some humour, and some style." - Dressed in red, we've got the style bit down!!!
Stay well,
Ben C GoodGym member
---
World Mental Health day is on Tuesday 10th October 2017
Throughout the week commencing Monday 9th October GoodGym will be holding special runs in partnership with Thrive LDN in 22 London boroughs

GoodGym runs are free to attend and we always welcomes new runners

Thrive LDN is led by the London Health Board and is a city wide movement to improve the mental health and wellbeing of all Londoners

They have 6 aspirations for London:
A city where individuals and communities take the lead
A city free from mental health stigma and discrimination
A city that maximises the potential of children and young people
A city with a happy, healthy and productive workforce
A city with services that are there when, and where needed
A zero suicide city