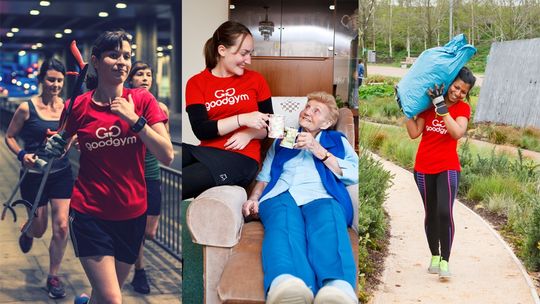 Come and work with the Older People Operations Team
We're recruiting a temporary Operations Support Coordinator
1.2 million older people in the UK say that they are chronically lonely.  Due to Covid-19, these people are more at risk than ever. GoodGym focuses on tackling these issues by connecting them with runners who get fit by doing good, either on coach runs or mission runs. We're recruiting for a temporary Operations Support Coordinator to help assist the Older People Operations Team during a particularly busy period. If you're passionate about making a difference, highly organised and love working with people, we want to talk to you!

Job Title: Operations Support Coordinator
Team: Older People Operations
Contract Type: Temporary (3 months)
Hours: 5 days (37.5 hours) per week
Salary: £21,500 (pro rata)
Location: Remote working during Covid-19
Report to: Older People Operations Manager
Application Closing Date: 12/07/2020
Interview Date: 20/07/20

Job description
As part of GoodGym's Older People's Operations Team, you will play a key role in the organisation. You will be responsible for the smooth running of the organisation's busiest team, as well as tackling social isolation and loneliness by supporting volunteers and their work with older people across the UK. The work will focus on supporting the GoodGym missions team with organising one-off practical tasks for older people, supporting volunteers and older people on coach runs and providing significant administration assistance to the team.


The ideal candidate will have experience in office administration, working with volunteers and vulnerable people and will be looking to join a small but dynamic team during a period of significant organisational change.


Primary Responsibilities
Office Management
Answering calls on Zendesk and managing the Older People Operations Team Inbox
Volunteer Support
Acting as first point of contact for volunteers, whether over email or over the phone; supporting them on either coach runs or missions, troubleshooting and resolving issues where necessary, maintaining complete volunteer records and reporting to the Older People Operations Manager if any safeguarding issues/allegations are made in line with GoodGym's Safeguarding Policy
Providing administrative support for missions, including but not limited to  communicating with referral partners, screening and listing missions on the GoodGym website, confirming missions with beneficiaries on the phone and ensuring best safeguarding practices are upheld
Supporting volunteers through the process of DBS application, checking references, conducting document checks and making judgement calls on volunteers' suitability for volunteer role
Relationship Management
Communicating with potential and existing referral partners over the phone and via email, answering questions about GoodGym and providing technical support as and when necessary


Other Responsibilities
To contribute to the development of the Older People Operations Team and respective processes and policies
Person Specification
Knowledge
An understanding and empathy towards the needs of older people
Awareness of services available to older people
Skills and abilities
Excellent verbal communication skills, particularly over the phone
Excellent written communication skills
Ability to provide information, advice and assistance appropriately, to volunteers and older people who use GoodGym's services
Ability to build strong relationships with people from a variety of backgrounds
Record management skills and attention to detail
Ability to work from own initiative and as part of a team
IT literate and able to pick up new systems quickly
Experience
Experience of working with or supervising volunteers
Experience managing relationships with a variety of internal and external stakeholders
Experience in the voluntary sector or health and social care setting or with health and social care providers
Experience of volunteering (volunteering with older people would be a bonus)
This role description is not intended to be exhaustive in every respect but rather to clearly define the fundamental responsibilities and purpose of the role. In addition to the contents of this role description, employees are expected to undertake any and all other reasonable and related tasks that help achieve the goals of the organisation.


We are specifically looking to hear from underrepresented groups in our workplace so strongly encourage BAME and LGBTQIA+ candidates to apply for this role.  Please let us know if you have any access requirements of which you would like us to be aware during this process.
Please apply by sending a short cover letter and CV to
jobs@goodgym.org
. If you have any questions about GoodGym or the role, please contact nikki@goodgym.org.