Celebrating the women of GoodGym
In a world where sport is often dominated by men, let's celebrate how GoodGym is contradicting just that
GoodGym are working with Sport England to encourage more women to remain active after university as there is still a big difference between the number of men and women who are active. With International Women's Day around the corner, we reflect on how in a world where sport is often dominated by men, GoodGym is contradicting just that.
---
"Football is for boys"
I asked my three year old niece to play football with me over the weekend, and she exclaimed "I don't play football, football is for boys!". This surprised me as I have played football with her before. So what made her believe that football is for 'boys'?
Afterwards I reflected on how little I see women in sport on TV, which I suppose isn't surprising given that Women's Sport makes up a measly seven per cent of sports media coverage in the UK.
However, with around 70 per cent of women making up the GoodGym community, we certainly have many women GoodGym runners who encourage, inspire and run alongside each other. I caught up with two runners from Bexley this week to find out more.
Mother Daughter motivation
Susan and Sarah, Mother and Daughter, have been running with GoodGym Bexley since it's second group run, they are both Run Leaders and regularly set up community missions. Susan and Sarah told me how they motivate, encourage and compete with each other.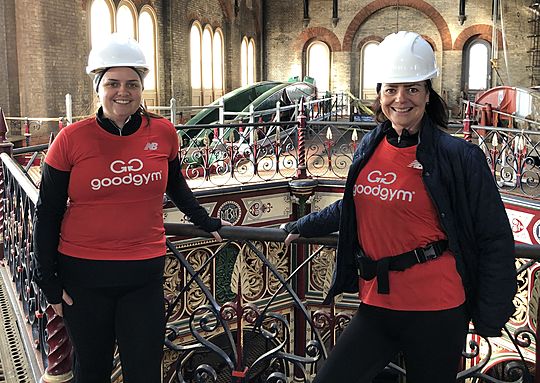 Sarah (left) and Susan (right) at a community mission Sarah organised to help Cross Engines Pumping Station reopen
We are racing to get our 100 Good Deeds
"It has become a bit of a competition, at the moment we are racing to get to our 100 Good Deeds." (Sarah is on 91 and Susan is on 93).
It must be written in the stars for us to run together
"Since we began running we have both entered numerous races 5ks and 10ks. We recently completed our second half marathon together and will be doing The Big Half on Sunday with GoodGym. We are currently training for this years London Marathon after both securing a ballot place." Sarah had a place last year but deferred due to an injury, so Susan applied knowing that Sarah would already be running. "It must be written in the stars for us to run together, it makes training more fun."
---
Get involved: