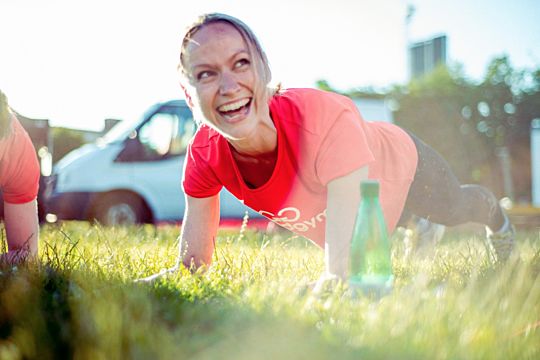 Caring for your mental health
Advice from a fitness expert qualified in mental health awareness during the Coronavirus outbreak
The Coronavirus is impacting our working lives, social lives, and dominating our media streams. For many this may also have an impact on our mental health, as we learn to adjust to a temporary new way of life. Here Laura Williams, our trainer in Tower Hamlets who holds a NCFE Level 2 Mental Health Awareness certificate, gives her best tips to weather the storm.
We're living in interesting times. The days are changing so quickly, no sooner do you get used to one scenario, you're having to absorb and adapt to another.
Unsettling is an understatement.
So we need to take the greatest of care of our mental health.
Here are my top healthy head hacks for you to stay as safe as can be in the days ahead.
Familiarise yourself with the rollercoaster. You know the one: at 11am you feel okay, perky almost, "Yeah, this is a brave new world, beset with challenges but hey, I've got this". By 11.05am you're plunged into despair, imagining an Orwellian future. At 1pm, you wander into the kitchen and ponder that lunchtimes minus the microwave queues are actually enjoyable. By 1.05pm you're gripped with a fear that you won't be able to afford to eat soon. Yep, move over Kingda Ka, this is The New Rollercoaster. The euphoria/despair gap will narrow, though. Mark my words.
Know that your tolerance for uncertainty will increase. Your little brain will get used to doubt and uncertainty. It's wired for it (tolerating doubt and uncertainty is the cornerstone to recovery from anxiety disorders and Obsessive Compulsive Disorder). It will take a bit of time but it will get used to uncertainty a bit more.
See this as phases. So at the time of writing we're probably still in the processing phase. Absorbing, processing… Then we'll gradually move to the adapting phase, and then we'll probably move to the creative/flourishing phase. We're humans. We adapt. It's our M.O. You just have to sit tight a while longer.
Take what you need and leave the rest. No one puts COVID-19 mental health better than the WHO, "…seek information only from trusted sources and mainly to take practical steps to prepare your plans and protect yourself and loved ones." You probably don't need live news from the moment you wake. Things are unlikely to change on an hourly basis but your state of mind may if you're listening to round-the-clock speculation on a worldwide pandemic. Switch off. Put on Radio 3. Or The Jungle Book.
Using your social network is very different to using your social media. One will help; the other may hinder. Be honest with yourself, and be discerning. If you find yourself feeling better after smirking at tweets and feeling less isolated making contact with Facebook friends, fine. But if you find the scroll is taking its toll, curb your screen time and phone a friend.
Sometimes the best self-care is discipline. Sticking to your planned run/walk/home-cooked dinner is the way forward in the current climate. Letting yourself off the hook too often with a routine you'd carefully planned in advance for optimum mental and physical health is to be avoided. "Make a plan and stick to it." is a good mantra for the moment.
---
Laura Williams is a qualified personal trainer and holds an NCFE Level 2 Mental Health Awareness certificate. She is our Tower Hamlets trainer, and you can follow her on Instagram and Twitter.
Get involved: