Bringing GoodGym to Wales: GoodGym Cardiff
What it's like to set up GoodGym in a new area... a Welshman's perspective
My name is Ben Annear and I am the trainer of GoodGym Cardiff. Here are my reflections on what it has been like to set up GoodGym Cardiff, bring runners of all abilities and ages together, and increase the awareness of GoodGym in Cardiff, Wales.
GoodGym Cardiff launched on 23rd May 2017, but did it really all begin there? Not at all. To cut a long story short I found out all about GoodGym the day before I ran the Barcelona Marathon whilst hiking up a mountain. Pennie, who is the GoodGym trainer for Barnet (There is a whole GoodGym community out there!) told me all about GoodGym. It was quite serendipitous actually as when I planned to move back to Cardiff from Brighton in late 2016 I noticed GoodGym was also looking for a trainer in the Cardiff area – It was clearly meant to be!
I was shortlisted, invited for interview and a few weeks later, selected. This is really where GoodGym began for me. Although I was in my element… I knew I was taking on a role that meant I was going to be challenging myself from day one. Although I'm not overtly shy, I have a tendency to be a perfectionist, and when there's a fear of failure my anxiety kicks in. Nevertheless, I wasn't going to let that stop me. My goal was to launch GoodGym Cardiff and make a success of it and that's exactly what I was going to do. I applied committed action in the months leading up to the launch of GoodGym Cardiff; Committed action is all about continuing in a course of action in spite of doubts in order to achieve your goal. I was also afforded with positive life coaching from Joselyn Sellen; a life coach is someone who aims to help and empower others to make, meet and exceed personal and professional goals. Using all of my skills and with Joselyn's help I was constantly stepping outside my comfort zone and expanding it all at the same time.
Stepping outside your comfort zone is really where the magic happens!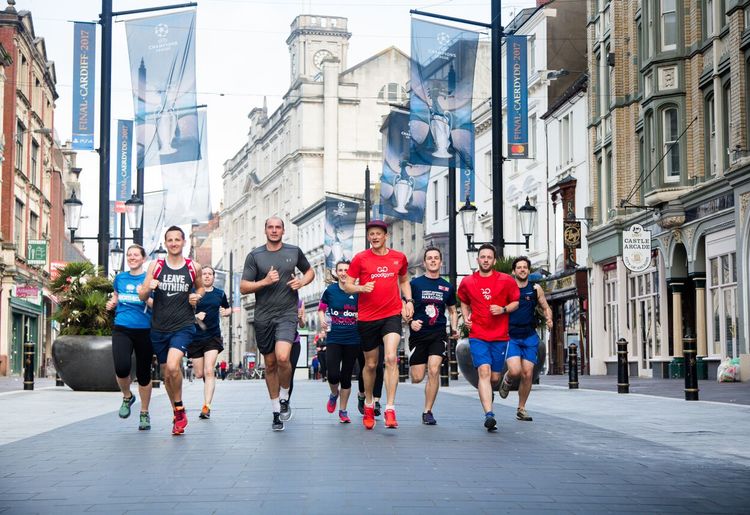 So what did I have to do to make GoodGym a success in Cardiff
Well I knew that I had to find a start location for our runs. After rejections and promising possibilities I had found it, 'Yr Hen Lyfrgell' (Yr Hen Lyfrgell on the Hayes IS Cardiff's first Welsh Cultural Centre) – It was the lovely Nia Ramage from the centre who helped make this happen. Once that was sorted I knew I would have to harness social media, and so that's what I did. I began reading more about running, posting about what I read and learned more and more about GoodGym, and what I learned I started sharing on social media. Click here for the GoodGym Cardiff Facebook Page and click here to follow us on Twitter. I found that it wasn't hard for me to be passionate about GoodGym either… getting fit, doing good and meeting awesome people whilst you're at it – This really hits the nail on the head for me and marries up important values in my life, to be healthy and to help others.
"This really hits the nail on the head for me"
I undertook my Leadership in Running Fitness (LiRF) training which was delivered by Chris Moss and James Thie - Two keen running enthusiasts who I still keep in touch with. Attending this training helped me feel more confident to lead a group of runners and, importantly, to appreciate how to lead a run club that accommodates runners of all abilities whilst structuring fun and safe sessions. In order to set up a running club which keeps its' members coming back, I spent time thinking about what's kept me going to the running clubs which I've been a member of previously. Here are a few things that sprung to mind:
A sociable and welcoming atmosphere
A club which is fun
Improvement in fitness.
Lots of events for runners to get signed up to
A supportive atmosphere.
So I bared all these in mind... AND I knew GoodGym had something else too... What's different about GoodGym to all the other running clubs I've been to? Well, GoodGym combines running with helping the community and THAT is what makes GoodGym unique! I love the idea of regular exercise with helping our communities and I knew others would be passionate about that too.
What has the biggest challenge been?
Setting up the club – doing something that I have never done. This has also been a very rewarding challenge that has helped me increase my confidence and learn new skills. Finding tasks can also be hard, however, through networking with charities/third sector council and social media I have been able to get the message out there that we are runners wanting physical tasks to help out with – we've been quite successful with finding tasks too!
So now where are we at?
GoodGym Cardiff has grown rapidly in recent months. We now have an amazing group of regular runners who are really passionate about their fitness and are helping the community every week, completing both group runs and mission runs. GoodGym runners are getting so much fitter in the process! It is the runners, the isolated older people and the charities/non for profit organisations we support that make GoodGym as good as it is. Our tasks have included painting 20 metre long walls, shifting rubble, sanding chairs, weeding, harvesting apples, laying a disabled access path and much more! You can read about all the positive ways GoodGym Cardiff has been doing good here. As well as all this cool stuff we are establishing a task force (runners who want to take on roles to help out with the running of GoodGym), getting runners trained up to become run leaders and, recognising the importance of inclusivity, we have just been listed on the LGB&T Sport Cymru website. We are also hoping to have runners attend training to become guide runners; Guide runners are volunteer who aids the visually impaired in running or jogging. We are also continually increasing our profile in Wales and recently featured on BBC Radio Wales and BBC evening news.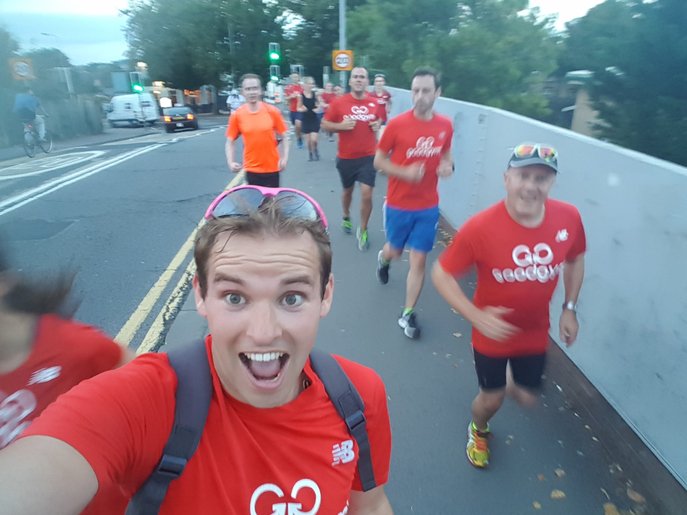 This is a summary of GoodGym Cardiff and its' successes and challenges to date. To end this piece what I'd like to say is that it's amazing what can be achieved when like-minded people come together to make the world a brighter and more positive place, and I'm pleased to be able to support an initiative like GoodGym that allows this to happen through the medium of exercise. Diolch yn fawr!
Would you like to join GoodGym Cardiff? Click here to find out about their upcoming runs - You'll get fit, do good and meet like-minded people all at the same time!