With GoodGym Newcastle launching at the end of April 2018 -- meet our talented trainer, Anji. Born and raised in Tyneside, she proudly proclaims Geordies the friendliest people in the UK and the running community in the North East second to none. With two marathons under her belt, coaching experience and a passion for encouraging people to give running a go; Anji hasn't lost her running mojo yet and is keen to help others find theirs.
Like many of us, Anji first got into running as a release from her stressful job. A "very bored gym bunny" she was seeking something new. Running didn't come easy, but she loved the challenge. The passion Anji discovered for running has accompanied her through both peaks and troughs. From the highs of running romance:
The parkrun I did back in January 2014 when I met my now-husband Paul was literally life changing!"
To the lows of loss: in June 2016, just a few months after losing her Dad, Anji ran with Ben Smith on his 340th marathon in Leeds. Anji considers this her best running day ever, reflecting that "Training for, and running, that marathon channeled my grief into something really positive and special."
We are so spoiled in the North East to have so much on our doorstep!
With its fantastic city centre routes, the outstanding Quayside and coastline there are an abundance of routes for the North East's massive running community to choose from. Prompted on her favourite run, Anji (a five time Great North Run veteran) answers
I love the route the Great North Run takes from city to seaside. I think I have cried every time crossing the Tyne Bridge!"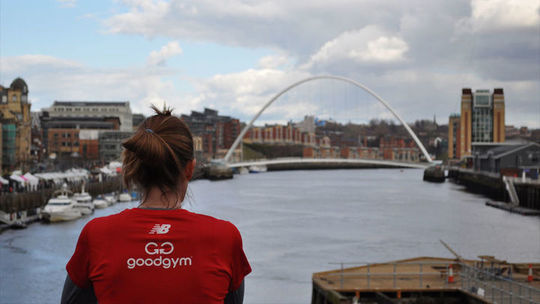 parkrun and Newcastle
Alluring routes aside, Anji is convinced Geordies will embrace GoodGym "You just have to look at the growth of parkruns in the area to see the running community is inclusive and we like giving something back. Anji is no exception when it comes to getting involved with her local community. Founder of the project 'Start Me Up' which encourages runners to take part in races and Run Director at Riverside parkrun, she truly lives and breathes running!
She says "I have read some inspirational stories of runners doing amazing things through GoodGym and I can't wait to give Newcastle runners the same platform to change their lives, other lives, and places in their community."
On the shoulders of giants
With a varied career in running and events marketing, Anji has worked with lots of VIPs, so she's hard-pressed to choose between her many role models. She shares her admiration for Steve Cram's work ethic and pride in his Jarrow roots, and admits:
It's pretty cool to tell people that athletics legend Steve Cram is my boss!"
Athletic achievement aside, Anji praises Christie Wellington for her promotion of parkrun and considers Paula Radcliffe "down to earth." Having overcome injuries and health conditions herself, Anji also adds "I really admire runners who come back from injuries and adversity to achieve amazing things such as Jo Pavey and Ben Smith..."
Anji makes running bearable
Each of these influences can be seen in her own style of training. Previously a teacher and natural enthusiast, Anji aims to break things down into chunks and make everything she does sociable and fun.
She says "Running is incredible for my mental health... I love to pass that on. I try to motivate people by keeping running a positive thing rather than a punishment they feel they should do". That said, she confesses, "I am a stickler for technical work, I love an agility ladder!" Her personal little rewards come in the form of diet cokes and cheese scones and the satisfaction of long runs with friends. Ultimately Anji believes:
Running isn't always about running fast, it's about making an impact with every step."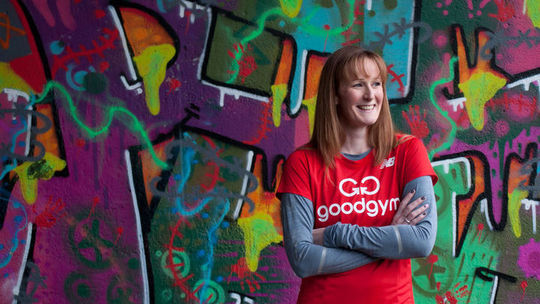 ---
Run with Anji at GoodGym Newcastle