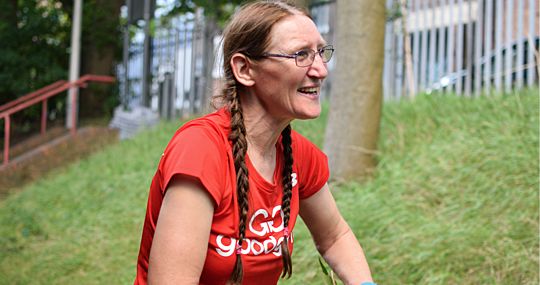 A way of life
Pauline, a GoodGym runner from Liverpool describes how GoodGym helped her connect to her late husband
Many GoodGym runners talk about finding a sense of purpose in the tasks that we do. For Pauline Harrison in Liverpool, participating in GoodGym helped her feel connected to her late husband's sense of purpose.
I am not a runner. I have never really done any serious running. At least, that's what I used to say, until I discovered GoodGym.
For 35 years, my husband and I had a happy and fulfilling life together. We worked hard, raised a family, travelled, volunteered and helped others whenever and wherever we could. For the last 14 years, we had worked in the same school. We planned to retire from our respective jobs in August 2018, to enjoy 'our time'. But plans don't always work out, and in April 2016, Derek was diagnosed with stage 4 Pancreatic Cancer. Just four months later, he was gone, and I felt like my life had ended too.
I felt lost, thought, 'What's the point?' It felt like my life had no purpose.I am surrounded by a very large, very loving and very supportive family…but I had never before known such overwhelming sadness.
I went back to work but needed to fill the empty hours that now stretched out before me each evening…so that was what I did: I already belonged to my local Rock Choir; I became a member of Runcorn Cycle Club; I joined Liverpool Samba School.
I was still working, so limited myself to three nights doing things for myself…and that was the problem…everything I was doing, I was doing for myself. I was trying to fill time, to block out thoughts, to distract myself…rather than face the reality of what had happened.
At times, the fog that had enveloped me would lift, and it was at these times that I would think (again), what am I doing? I had met some amazing people, made new and lasting friendships, and found a way to engage with the world once more - but something was missing.
I wanted/needed some purpose in my life, a reason to be – I needed to make a difference, to do some good. I thought about my husband…we called him the man with the trailer, as he loved doing jobs for people that involved lifting, shifting, digging and clearing.
Then, in March 2018, flicking through Facebook posts, a pop-up advert caught my eye. Get fit while doing good…I signed up there and then, and just two days later, I was at the launch of GoodGym Liverpool – one of the first members – and I've not looked back since.
Currently on 113 Good Deeds, a member of Task Force and a coach and mission runner, I finally feel that I am doing something worthwhile. I feel that I am making a difference. I am doing some good…and I am doing it in memory of, and for, my husband, Derek. He would have loved the whole GoodGym ethos.
GoodGym is a way of life, a reason to be, my motivation and purpose. It is everything that I didn't know I needed. Oh, yes…and now I am a runner, too.
---
Get involved:
-Find out about GoodGym in your area