Ice, Ice, Bug Hotel
Monday, 11th of December 2017

Led by Paul Bown
12 runners ran 5km to help the FROGG and Caxton House in Islington.
12 of Islington's finest ran 4km, helped FROGG and had our Christmas Party - woop!
Thank you all for coming last night to the run and meal, and of course thank you for making GG Islington brilliant in 2017. We will be back bigger, stronger and gooder (yes that's a word) in 2018 - first run will be Thursday 4th January.
In the news this week:
Well done to those who smashed Regents Park 10km in the snow on Sunday - hardcore!
Make sure you share our starter session on Saturday 13th January to your friends, family & colleague - we'll be doing Highbury Fields Parkrun first!
Oh and MERRY CHRISTMAS!
After our intros, a warm up that avoided black ice we headed 2km north to help FROGG! Armed with a Christmas tie, Aidan's Christmas lights jumper, Lucy's Santa hat and Graham's shorts we were ready to conquer the cold and do some good.
Ho ho ho!
Upon our arrival Aidan and Graham led some conditioning exercises to keep everyone warm while a few of us met Sarah to collect the tools, wheelbarrow and keys. Tonight we were helping Friends of Grenville Gardens, aka FROGG, who are a wonderful bunch of volunteers that look after the gardens. Our tasks this week were:
Filling the wheelbarrow and containers with mulch and transfering it across the icy grass to be put in a planter. Once the mulch bag was light enough the team lifted it over and emptied it.
A team of three filled containers with leaves and weeds to make some BUG HOTELS - cool! This had recently been vandalised so it's great to repair it.
The rest of the team spread across the garden and scrapped ice off the pavements, a key task for a freezing night.
We completed our tasks in no time at all, well done all! Heading home downhill we were back early so we stretched inside, took a fantastic group picture and headed to a local Turkish restaurant for our Christmas Party!
Islington Stats of 2017:
1400 good deeds
267 runners
41 missions
53 group runs
267 coach runs
30,079km's
Nine people got their Black T-shirts
Two people got their WINGS!
Runners of the year (good deeds):
Patrick Luong - 115
Aidan Padfield - 73
Steve Coman - 70
Best Supporter: Patrick Luong with 2572 cheers
Best Supported: Graham 'Shorts Ironer' Atkins with 277 received cheers
Many thanks all for the fun, good, fitness, laughs, beer, biscuits and more. You guys are the best!
See you in the New Year!
Merry Christmas
PB
Report written by Paul Bown
---
Discuss this report
Join us on the next run
First Islington Run of the year!
Thursday, 4th of January 2018 6:45pm
Led by Paul Bown
The Arsenal Community Hub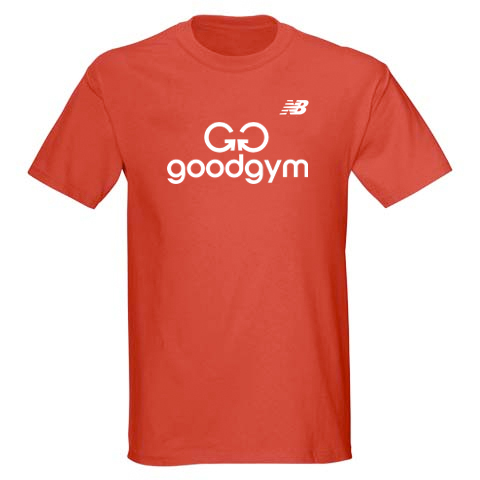 GoodGym Membership
If you become a member we'll help you get fit by doing good. You get the support of your local trainer and help to set and achieve fitness goals and a new GoodGym New Balance technical running top. You also get 20% off at NewBalance.com.
All aspects of GoodGym are free to participate in. Most Goodgym members donate an optional £9.95 a month which go to the GoodGym Charity to help us reach more older people. We'll ask you if you'd like to donate when you join.