#GGxRIga
0 runners ran in a race.
Sunday, 14th of May 2017
97 runners headed to Riga to race against the Latvian
This is what the legend Tom Benson has to say about it:
Well that was something else. Over the weekend an amazing 90+ GoodGymers descended onto Riga, the capital of Latvia, for their annual Running Festival. The Latvian weather stations must have been getting a few phone calls as locals had reported to see Red Thunder over the weekend. Symptoms included a very loud cheer for anyone seen in a red t-shirt/vest, had a killer mustash, dress up as a vegetable and everything in between. Up for grabs was a range of races from 6 km to the Marathon. And as a bonus the folks from Team South West that arrived on Friday ended up representing the UK and America in the Pre-Race Parade of Nations where they paraded through the centre of town flying the flags.
A Saturday evening of, pre-race nerves/watching Eurovision ensured, and then it was the big day, with the races kicking off at 8:30 (that's 6:30 am UK time…ouch). However it soon came apparent why this was going on as it was certainly t-shirt weather as the sun was like the GoodGym crew, out in force. First up was the marathon and half marathon both kicking off at the same time, what that ensured was that many a friendly face was seen on route which allowed many a high five. We also had a mega cheer point that was located on the Bridge which Ruth staked her claim and proved a great distraction from the race tiredness.
@goodgym does #lattelecomrigamarathon! 🙌👏🙌👏🙌 #GGxRiga pic.twitter.com/nLkrGvU8es

— Hazel Childs (@HazelChilds) May 14, 2017
As the sun was at its peak so was the race atmosphere and then team Red Thunder smashed out the 10km and 6km respectively. All in all due to the range of folks running the different races it meant everyone who finished was greeted by a defining rore from the Red Thunder Cheer point at the end, I can only talk from my experience however its things like that that really stay with you it was flipping mega. I'm pleased to report many a PB was smashed and seen as at times the sun was hotter than an oven that's pretty impressive stuff!!! We all did very well and even managed a top 10 place in the 10km and a fifth in the 6km as well as being the unofficial best cheerers in Riga. What followed was a well-deserved buffet and then a few celebration drinks and a few more for good luck including dancing on tables.
All done, 6.2k (and not 6): 20.49 (5th) @thomascraggs I think we need to work on race tactic ;) @GGRaceTeam @goodgym @runningwithus #GGxRiga pic.twitter.com/p29j0mSypH

— Axel Manzano (@manzan46) May 14, 2017
These weekends don't organise themselves so a mega cheer is deserved for Paul Bown and Axel Manzano for rallying the troops and ensuring we all knew the score and organising a buffet for over 90 people, that's a marathon effort in itself. Cheers guys, although I was pretty tommy tuckered when I finished my race, just socking in the atmosphere at the finish line was so amazing, really infectious stuff, nice one team, we came….we saw…..and we really conquered (in a GoodGym way that is), nice one team.
This is what the legend Steve Coman has to say about it:
I did a pb at Riga and it was my aim for the year ie: a sub 1.45 half marathon. I did train for it and was chuffed that I got it it after missing out by 23 seconds at Hackney. Incidentally, both Hassan and I like the age adjusted time mechanism that parkrun uses to compare across gender and age and according to the new WMA tables my age adjusted time was 1.23 something! Not bad eh?
Before it all started
After 3000m last week, Sunday 6k in Riga @RigasMaratons with @goodgym, I needed a change from usual 5/10k :D #RedThunder #GGxRiga #ukrunchat

— Axel Manzano (@manzan46) May 12, 2017
er...something about doing the half, the 10k and the 6k all in one day in two weeks in Riga... #GGxRiga #RedThunder #SensibleRunner

— Pritski (@pritski) May 2, 2017
My first ever race was a year ago. 2.5km with dog in Brockwell Park.
Sunday, off to Latvia with @GGRaceTeam for a half marathon #GGxRiga 😮

— Dom (@domtooze) May 8, 2017
Some encouragement from all over GoodGym World
All the best guys and gals, #RedThunder #DoGoodGetFit #GGxRiga

— blessings (@jamblessed) May 12, 2017
Good Luck to all the GoodGym runners taking on Riga #GGxRiga https://t.co/62YlLTazHU

— GoodGym (@goodgym) May 12, 2017
Safe travels to @GGCamden-ites who are at @RigasMaratons this weekend! Don't push too hard we need you for #GGxOlympics! #GGxRiga pic.twitter.com/4TzpLoN5gb

— GoodGym Camden (@GGCamden) May 13, 2017
And we started to conquer the city
First @goodgym runners to arrive @RigasMaratons, only 85 more to go :D #GGxRiga #GGTrip #RedThunder pic.twitter.com/ho5og910gF

— GoodGym TowerHamlets (@GGTowerHamlets) May 12, 2017
Goodgym do Riga #GGxRiga @GGRaceTeam @goodgymbath @GoodGymBristol running, good company pic.twitter.com/TfPZMDX46r

— GoodGym Bath (@goodgymbath) May 13, 2017
**The runners where getting ready**
Here we go again - give it a few hours & hopefully I'll be all blinged up after running 3 races at @RigasMaratons today! #GGxRiga #PMxMedals pic.twitter.com/68Vfvtdk9O

— Pritski (@pritski) May 14, 2017
We know how to finish and celebrate some PBs
Une publication partagée par Frances Powrie (@francespowrie) le 14 Mai 2017 à 6h50 PDT
Riga Half done and it's a PB! Whoop. #ggxriga #redthunder pic.twitter.com/GQJqpzUOTf

— Sarah Rajabalee (@sarahrajabalee) May 14, 2017
The BIG photo
Thank you @RigasMaratons for a such amazing, and well organised event! Everyone had such a good time and I lost my voice cheering #GGxRiga pic.twitter.com/Z2AdKtGd2P

— Axel Manzano (@manzan46) May 15, 2017
you can find more photo here
You have made it to the end of the report why not join us next year in Bucharest
Report written by Ax Man
---
Discuss this report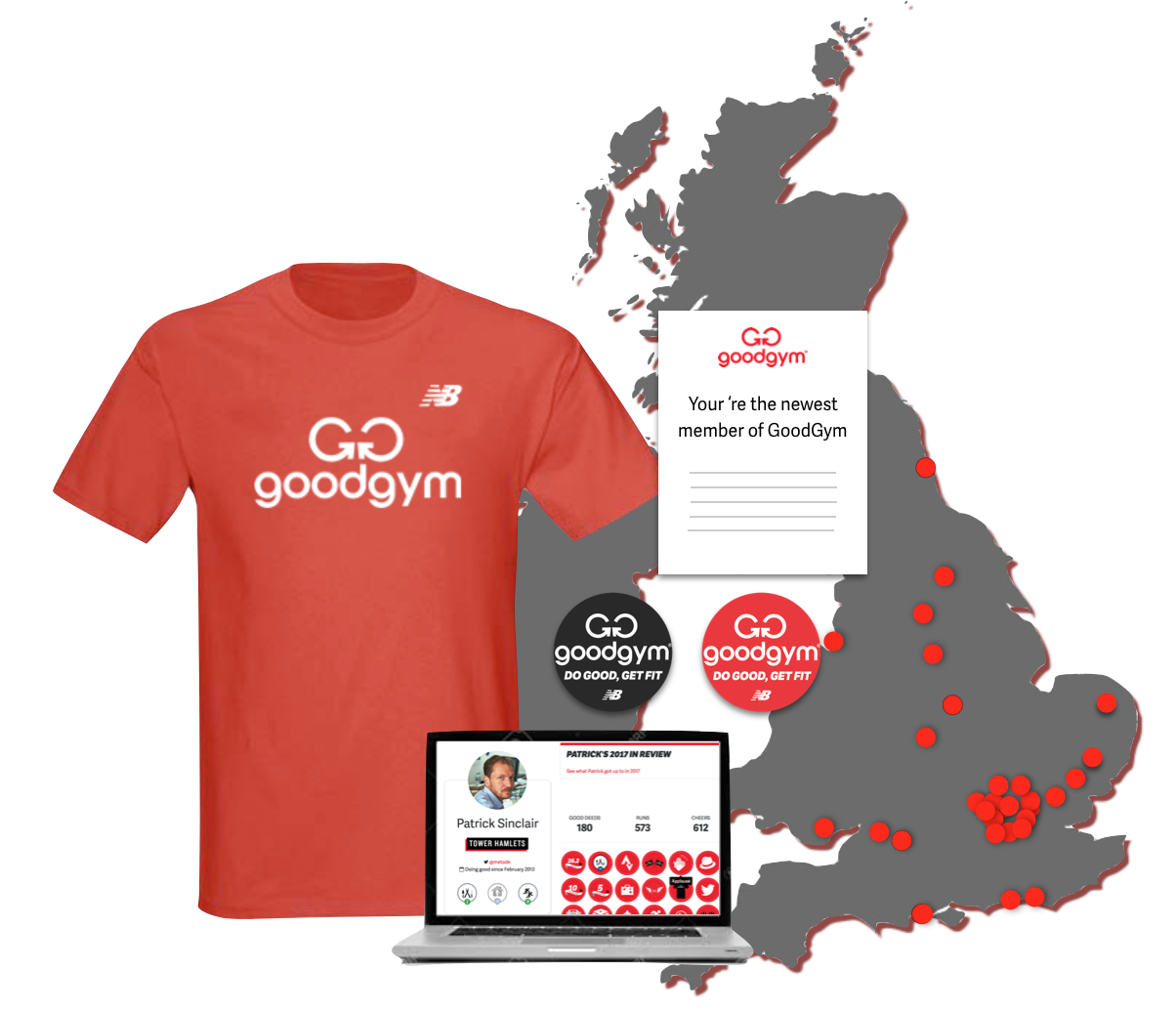 Become a member
with an optional £9.95 monthly donation
Run to help older people
Access sessions across the country
Claim your GoodGym t-shirt
---