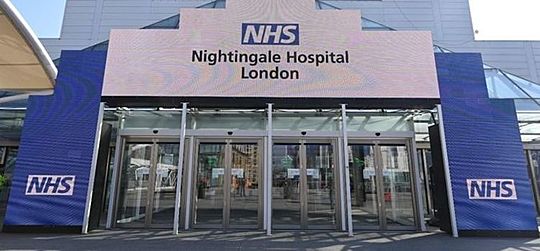 Why we are supporting NHS Nightingale Hospital Training Centre
GoodGym are supporting Team London by connecting our members to the support effort in the set-up of the NHS Nightingale Hospital in East London.
This new hospital is being opened to provide support for thousands more patients with coronavirus (COVID-19). They are asking for volunteers to provide a friendly welcome and support the induction of NHS staff at the training centre based at the O2 Arena. This volunteer role will therefore take place at the O2 Arena in North Greenwich.
This role is to support the induction and training of hospital staff and so there will not be any contact with patients, relatives or treatment areas of the hospital. The role will include checking in new staff, providing directions, supporting the distribution of uniforms, assisting NHS induction staff and offering a friendly welcome to the staff who will go on to provide life-saving medical treatment to patients with coronavirus.
What are the volunteer roles?
They will be looking for volunteers for several roles, including the following:
Arrivals and welcome - this will involve welcoming NHS staff, checking ID and wayfinding (please note it will involve standing and may be outside or inside the building)

Induction support - this may involve supporting trainers to induct NHS staff, ensuring training rooms are set-up and welcoming staff
Roles will be allocated on arrival at the site.
When are volunteers needed?
Volunteers are needed NOW! It is vital that the NHS Nightingale Hospital is up and running as soon as possible to save thousands of lives.
There will be morning and afternoon shifts available for volunteers for at least the next two weeks. Shifts are already live on the portal, so you can sign up as soon as you log in. More shifts are released weekly.
Who can volunteer?
Your safety is our priority and as such volunteers must be fit and well with no symptoms of coronavirus. Those in higher-risk groups including those over 70, pregnant or with underlying medical conditions will not be able to take up this role. Most tasks can be undertaken while social distancing and volunteers will receive guidance and training to support them to volunteer safely. No personal protective equipment is required to carry out this role.
Food will be provided, and travel expenses will be paid.
How to get involved
1. Click here to register on the Team London portal.
2. Once you are registered and logged in, click here to book your shifts.
3. Once you have booked a shift a 10 minute online training module will become available on your portal (Click on the 'Online Training' button on the left hand side of your portal).
If you have any questions please read the FAQs here first. If you haven't found an answer to your question then please email majorevents@london.gov.uk or call 07850 097 068.
Show your support
42 people are supporting NHS Nightingale Hospital Training Centre
By supporting this charity, you will be able to log any good deeds you have done with them.
Count me in
Posted by

Liv Parker-Scott
GoodGym area activator in Ealing. I love running, walking & cycling for mental & physical wellbeing!