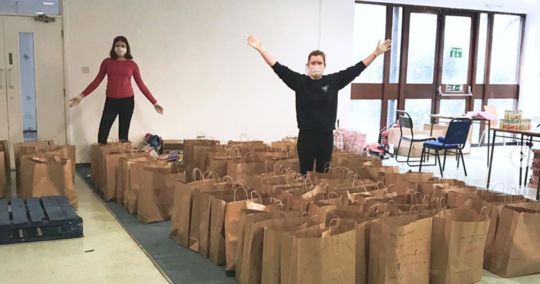 Why we are supporting Dare to Care Packages
Dare to Care was set up in response to COVID-19 outbreak to deliver essential items primarily to vulnerable and isolated groups that fall through the cracks in large-scale charity responses. Their care packs contain food and essential supplies to last one person, one week.
How to get involved
Dare to Care need more volunteers to support with an multiple tasks throughout the week:
Monday/Wednesday: Sourcing product donations

Wednesday: Sanitising and preparing package products

Thursday: Assembling packages

Friday/Saturday: Delivering packages all across London
They especially need runners and cyclists to help deliver care packages within the congestion zone on Fridays and Saturdays or for drivers to pick up packages to deliver in their area.
For example, are you a member of GoodGym Richmond with a car? Could you collect all the packages for West London so other GoodGym members can meet you to deliver locally.
Or maybe you live in Camden and would be happy to deliver packages within the central London area?
See the upcoming volunteering opportunities here: https://daretocarepackages.com/volunteer-opportunities
Once you've got involved, come back here and let us know how you've helped. Snap a photo and upload a report so we can share it with Dare to Care!
Show your support
3 people are supporting Dare to Care Packages
By supporting this charity, you will be able to log any good deeds you have done with them.
Count me in
Posted by

Liv Parker-Scott
I'm Liv, the GoodGym Trainer for Ealing! I love running for mental & physical wellbeing and want to spread that joy to everyone else!